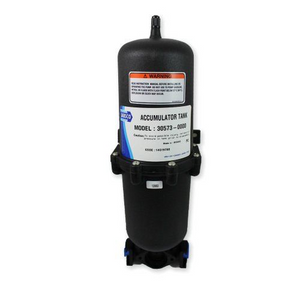 FLOJET accumulator tank 305730001A
The accumulator tank for Flojet water dispensing systems.  The accumulator tank is a water chamber which has a pre-pressurized internal air bladder.  It is installed in the pressured side of your pump and is intended to dampen water pressure spikes, reduce pump cycling and help increase the pump's life.  The accumulator tank also helps to reduce noise, eliminate water hammer, and improve temperature control. 
The compact pneumatic bladder tank is designed for smaller space and systems, and mounts easily in any position.  It is ideal for low volume water supply applications. Tank is pressured to 10 psi (0.7 bar) and can be fine-tuned to the cut-in pressure of a pump.
Snap-in Port Fittings include both 1/2" barbed hose fittings and 1/2" threaded hose fittings
Specifications:
Capacity: 1 litre or 0.26 gallons
Maximum operating pressure: 125 psi (8.6 bar)
Port type: 12.7mm (1/2") barbed quick-connect
Approvals: NSF Standard 18 listed
---
We Also Recommend
---