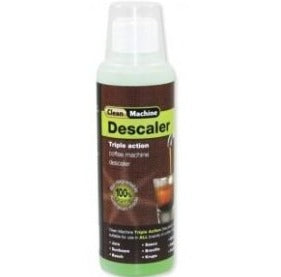 Clean Machine Cleaning Descaler
Keep your machine going
Signs of scale include low water temperature, poor steam performance, poor water flow, and machine slow to come to operation temperature. The health and maintenance of your machine is critical to avoid it going out of service. Clean Machine Triple Action Descaler acts to penetrate, lift and dissolve harmful scale whilst cleaning your machine.
Usage
Use 50 ml of Triple Action Formula to descale your machine.  If you descale irregularly or you have obvious scale problems, use 100 ml or repeat the descale process 2 times.
For more barista tools in Hong Kong, Redback Specialty Coffee can advise you, or look further into our collection. 
---
We Also Recommend
---