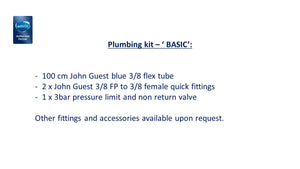 Plumbing kit 'Spirit'
System description: 
Results from both our own coffee tasting and from coffee professionals using their own coffee, indicate coffee taste is enhanced flavor wise and in complexity when water PH measures close to basic.  We have developed a system to manage this range it's  named'Spirit' & 'Spirit +'.
'Spirit' & 'Spirit+' de-carbonate the water.  It's done through Ion exchange (Carbonates from the incoming water are captured and Hydrogen Ions released).    
Applications suited to fitting a 'Spirit' & 'Spirit+' are those where the incoming water PH is > 8.0 @ 25degC.  And applications where users want to regulate PH between a range of 6.4 to 7.5; for example to suit different coffee and taste profile.  
Regulation of the PH level is managed primarily by BRITAs' patented 'intelibypass' head.  Simply by altering the head setting you will increase or decreases the release of Hydrogen Ions into the water stream.
Spirit + is designed for those systems where the incoming water PH is lower than approx. 7.5. 

Call us to discuss the other changes that occur to the water parameters by installing a SPIRIT system as well book a time to visit us at our showroom & taste your coffee or the water itself!
Suggested installation:
-  Coffee machine
-  Water for Softbrew
-  Drink water taps
-  Ice machines
-  Batch brewers
And more




---
We Also Recommend
---