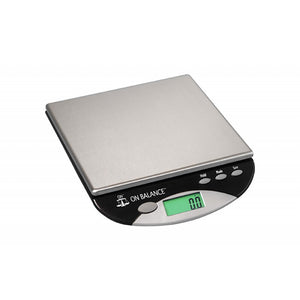 Rhino Coffee Gear Bench Scale / 2kg
Check every dose with ease
The Coffee Gear Bench/Portafilter scale makes weighing the portafilter handle a breeze. Reducing variables is the key to making the perfect espresso and weighing each 'in handle' dose helps your business produce a more consitent product.
Features
Its generous surface allows for quick and easy placement
Up to 2kg capacity
This scale to be used for weighing beans and other produce.
Tips For Use
Place the scale on a flat, level surface away from any electronic equipment that may interfere with the scale. Press and release the "ON/OFF" button to turn on the scale.  Wait until the LCD display shows  "0.0", then press the "MODE" key to choose your desired weighing unit.  Place the item to be weighed on the platform and wait until the reading is stable. Press the "ON/OFF" button to turn off the scale.
To Calibrate
On the underside of your scale, slide the switch from your auto-off selection to "Calibration". Now the scale is in calibration mode. When the scale is turned off, press "ON/OFF" key again. Wait until zero is displayed. Press and hold the "MODE" key until the display shows "CAL", then release the button. Press the "MODE" key again. The required weight (2000g) flashes on the display. Place the required weight onto the centre of the platform. The LCD display reads "PASS" and comes back to the normal weighing mode. Turn the scale over and return the switch from "Calibration" back to your desired auto off selection.
For more barista tools in Hong Kong, Redback Specialty Coffee can advise you, or look further into our collection. 
---
We Also Recommend
---