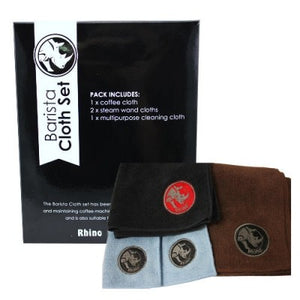 Rhino Coffee Gear Barista Cloth Set
A clean barista is a happy barista
Pack includes:
1 x Coffee Cloth with clip (BROWN)
2 x Steam Wand Cloths (BLUE)
1 x Multipurpose Cleaning Cloth (BLACK)
Coffee Cloth with Belt clip: This heavy duty microfibre cloth has been designed to quickly and easily remove coffee waste from group handles and related parts of the machine with ease. Complete with "belt clip" this generous knee-length cloth makes keeping your machine in A1 condition a breeze. 310mm x 600mm (12 inches x 24 inches)
Steam Wand Cloth: Having a separate steam wand cloth is important. Best used damp, the steam wand cloth allows for quick and easy removal of milk residue. It has a tremendous capacity and is large enough to refold a number of times for maximum use. 200mm x 200mm (8 inches x 8 inches)
Multipurpose Cloth: This multipurpose cloth is designed to outlast, outperform and do away with your old-style disposable all-purpose cloth and sponge. Ideal for cleaning and polishing coffee machines. 310mm x 310mm (12 inches x 12inches)
Washing instructions: wash separately or with lint-free articles. Do not use fabric softener. Remove clip before washing (where applicable)
For more barista tools in Hong Kong, Redback Specialty Coffee can advise you, or look further into our collection. 
---
We Also Recommend
---