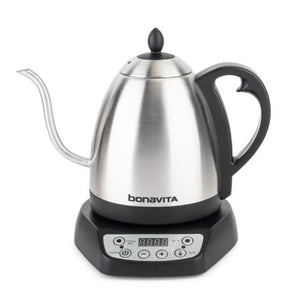 Bonavita 1.0L Variable Temp Gooseneck Kettle
Bonavita's industry reputation over the years has set a standard of quality and precision, the variable temperature kettle is the perfect addition to any domestic or commercial workspace! 
The variable temperature kettle made from stainless steel and BPA free plastic is matched with a 1 litre capacity, the gooseneck spout makes the Bonavita 1.0L varaible temperature kettle a perfect brewing partner for coffee and tea lovers. Temperature adjustment is both accurate and precise allowing users to choose their specified temperature between 60 degress Celsius - 98 degrees Celsius (140deg F - 212deg F) for ultimate brewing control. 
The 1000 Watt element means there will be minimal wait time for your kettle to reach your desired temperature. Once at temperature users have the option at the press of a button to have the kettle 'heat and hold'! This means, you can pre-set your temp, press the heat and hold button and you kettle will hold that specific temperature for up to an hour! 
Features: 
- Gooseneck spout for precise pour control
- Temperature button for quick access to preset brewing temperatures
- Adjustable temperature settings in one degree incriments
- 1000 Watt element for quick heating
- Hold button heats and holds temperatures between 60 deg C and 98 deg C (140deg F and 208deg F) 
- Made from Brushed Stainless and BPA free plastic
- Move between Celsius and Fahrenheit at the push of a button
- Suits domestic and commercial applications
Note: It is recomended that users ensure water quality peramiters are within an acceptable range, damage to kettle due to poor water quality or customer misuse will not be covered under warranty. 
For more coffee brewing gear for home in Hong Kong, Redback Specialty Coffee can advise you, or look further into our collection.
---
We Also Recommend
---