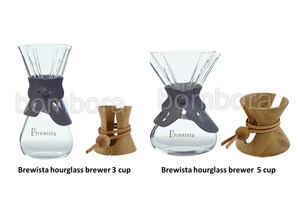 Brewista Hourglass brewer
Bonus Bamboo Collar now included!
The Brewista Smart Brew TM 5 cup Hourglass Brewer has an innovative dual spout design which provides smooth pouring without splashing. The ergonomically designed profile and no-slip, heat resistant silicone wrap make it easy to handle. Extrusions on the interior of the vessel prevent filters from sticking when wet, so removing grounds is simple and clean when you are ready to pour.
Durable tempered borosilicate glass maintains temperature without cracking under quick temperature changes. The 750ml size is perfect for brewing up to 5 cups. Fits standard #4 cone style paper filters.
Features:
- Tempered borosilicate glass
- Thick, protective silicone wrap 
- Dual pour spouts
- Interior profile prevents filters from sticking
- Smooth pouring
- Perfect for brewing up to 5  cups at a time
- Fits standard #4 cone style paper filters
Parts and Materials:
Body: Tempered borosilicate glass
Grip: Heat resistant silicone 
---
We Also Recommend
---